Coping With Financial Stress in Your Life
How Financial Stress Can Affect Your Health
If you are worried about money, you are not alone. Money is a common source of stress for American adults. In fact, according to the American Psychological Association (APA), 72% of adults report feeling stressed about money, whether it is worrying about paying rent or feeling bogged down by debt. This is significant given financial stress is linked to so many health issues.
Although any stress can take a toll on your health, stress related to financial issues can be especially toxic. Financial stress can lead to:
Delayed healthcare.

Poor mental health.

Poor physical health.

Unhealthy coping behaviors.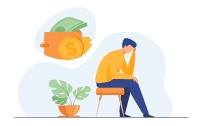 Learning to cope with financial stress and effectively manage your financial situation can help you feel more in control of your life, reduce your stress, and build a more secure future. If you feel that the stress of your financial situation is too much for you to handle, it is important to share your concerns. Talk about your money concerns with trusted friends, family, or contact a financial institution where a professional can assist you.

Here are some tips to help get you started for learning how to cope with financial stress:
Create extra sources of income.

Declutter your budget.

Understand the debt cycle

For further information about how financial stress affects your health access the full article here https://www.verywellmind.com/understanding-and-preventing-financial-stress-3144546
Other useful links to learn more about financial stress and your health: