April is Stress Awareness Month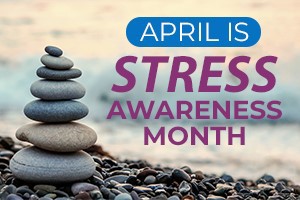 Stress Awareness Month has been recognized every April since 1992, however this year it seems particularly important. Learning to cope with our stress and finding healthy ways to deal with these situations can go a long way in living a healthy and positive life. Long-term stress can prove to be more than just a mental issue.
We all experience stress, yet we experience it in different ways. For that reason there is no single definition for stress, but the American Institute of Stress states the most common explanation is a "physical, mental, or emotional strain or tension."
Common issues related to stress:
Headaches;

Stomach disorders;
Anxiety/Depression;

Stroke; and

Heart Disease.
Tips for Coping with Stress
Take care of yourself. Eat healthy, exercise regularly, get plenty of sleep, give yourself a break if you feel stressed.
Discuss your problems. Talk with a parent, friend, or another trusted source.
Avoid drugs and alcohol. Brain research now indicates that people exposed to stress are more likely to abuse alcohol or other drugs, or to relapse into drug addiction.
Recognize when you need more help. Know when to talk to a psychologist, social worker, or counselor if things continue.